dhCenter member Jessica Pidoux describes her recently defended thesis in EPFL's Digital Humanities Doctoral Program (EDDH) on the collective learning processes – both human and machine – that take place on online dating platforms.
Pidoux's public thesis defense was held on September 16th on the EPFL campus, with additional attendance via Zoom. Entitled "Online Dating Quantification Practices: A Human-Machine Learning Process", her thesis explores the sociotechnical issues arising from online encounters via dating apps and websites that are organized by algorithmic matching systems.
For her doctoral work, Pidoux analyzed and compared the communication practices of the four main actors in online dating – graphical user interfaces, developers, algorithmic systems for user matching, and users – holistically, rather than separately, as most prior research has done. Using a combination of qualitative and quantitative methods from both sociology and data science, she analyzed more than 320 variables collected from more than 20 dating applications, and conducted interviews with developers and users.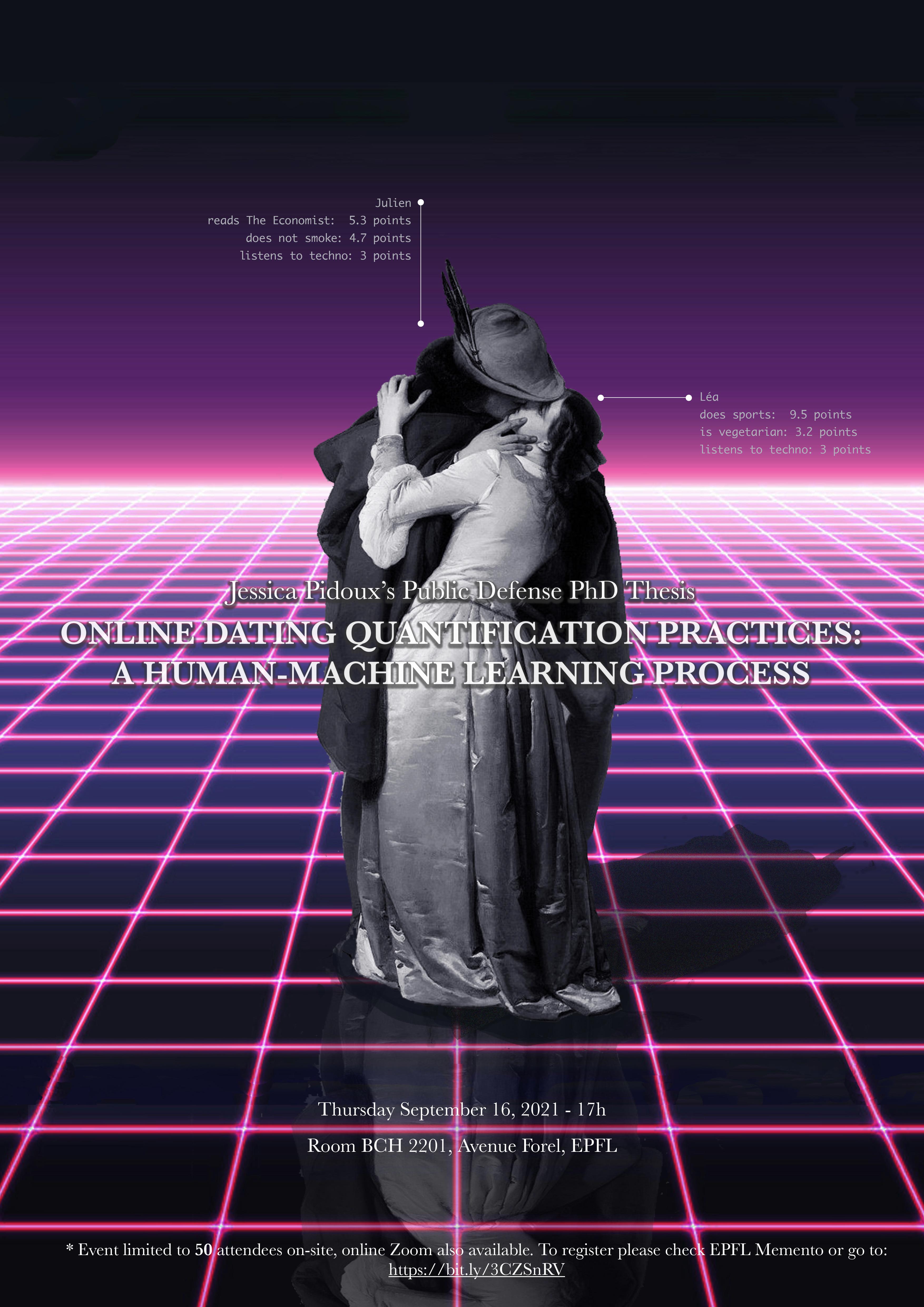 A machine learning paradox
Pidoux's results reveal that interaction with online dating platforms "involves a collective learning process of experimentation" for humans and machines that is fed by online and offline experiences. She explains that users learn how to present themselves to increase their chances of receiving matches, and try to improve their performance as they learn how an app and its reward systems – such as swipes, badges, or profile views – work. At the same time, apps learn from users' actions and preferences, which can sometimes lead to the perpetuation or amplification of human biases.
"Tinder, for example, recommends matches based on a patriarchal model," Pidoux says. "The system learns that some older men prefer the profiles of younger women with a lower level of education, but then the algorithm might suggest the same model to other female users of the app."
Pidoux also focused on the abundant user data that dating apps collect. "Matches are not just based on swiping left or right on a profile picture. Apps collect a lot of data – from your geographic location, to your HIV status, to answers to psychological questions – which quantify your private life," she explains. Interestingly, she found that the more users become aware of this data collection and quantification, the more they seek out "human" approaches to romance.
"This is a paradox of the app economy, which is better defined as the attention economy. Apps want to retain your attention so that you to stay on your device and create ad revenue. But when users start to learn that staying on the app does not necessarily lead to finding offline dates, many choose to leave the app and connect face-to-face as soon as possible, which can lead some to accumulate dates at a high frequency."
A digital humanities champion
Pidoux has lost no time putting her digital humanities PhD to use. She has already begun a postdoctoral program at the CEE (Centre d'Etudes Européennes et de Politique comparée) at Sciences Po in Paris, within the framework of the European Union Horizon 2020 citizen science project COESO, and directs personal data protection nonprofit personaldata.io. She has also recently founded the Dating Privacy Collective, which aims to create new privacy protection standards for apps, and to inform users of how algorithmic systems use their data.
"My background in digital humanities allows me to have a sociological perspective on current development techniques, and to conduct empirical research that is quali-quantitative and comparative across platforms," she says.
During her time at EPFL, Pidoux has been extremely active in promoting digital humanities research, collaborations, and public engagement. In addition to acting as president of Dhelta, the EPFL-UNIL digital humanities student association, Pidoux is a member of the UNIL-EPFL Center for Digital Humanities (dhCenter).
Originally from Venezuela, Pidoux earned a Master in the Sociology of Communication and Culture from the University of Lausanne in 2015. In 2017, she received a Doc.CH grant from the Swiss National Science Foundation, which allowed her to join the EDDH and launch her studies under the supervision of Daniel Gatica-Perez and Dominique Boullier.
This article was originally published on September 21st, 2021 by Celia Luterbacher of EPFL CDH.